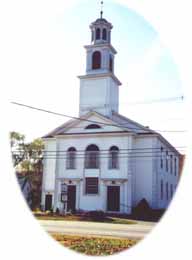 The First Congregational Church of North Attleborough is at the center of what is called "Oldtown" because it was the first settlement of the Attleboros receiving its charter in 1710. The settlers were from that hearty band that Rev. Samuel Newman led from Weymouth down to Rumford, RI. The group further split and our ancestors landed in the North Rehoboth Purchase.

The present Meeting House was built in 1828 and retains a colonial flavor in pew stalls and glass globes. Each year over 400 students from local elementary schools come to Oldtown for a living history lesson. The old one-room Schoolhouse across the street and the Meeting House are both on the National Register. Many students are surprised to hear that the building is still in use today. We assure them that we are more than a museum.

If you would like to visit our church, we would love to have you see this wonderful old sanctuary.